At last week's CMJ Festival, nobody measured up, either. All the heavy hitters - Ponytail, Lykke Li, etc - left town with the dubious distinction of having not blown it, while the smaller fish (at least initially) managed little more than to squeeze themselves onto some future mixtapes and playlists..
So it goes without saying that the Chap wasn't even in attendance. The English quartet, which released a breakthrough third album, Mega Breakfast, on Ghostly International this summer, has no interest in staying some myopic, outdated course or pressing authenticity onto people. When I ask their lead singer and guitarist, Johannes von Weizsäcker, about the authenticity problem bands face these days, I can hear him grimace even from across the Atlantic Ocean. "I don't really know what that means, you know," he admits. "You make music, which is rock music, which has some rock references, and then you say, 'I feel this, and I really mean it,' or..." He pauses. Suddenly his voice brightens, and he changes gears: "Because it's pop music, and pop music is entertainment, and entertainment is about the least authentic thing you can imagine. Some of the greatest pop music in history has been, in some sense, the least authentic and most pretentious and most put-on kind of act. And that's part of the appeal, really."
It's not every day you get a lead singer discussing his art in these terms, but the Chap is not a typical band. For starters, they've got more musical knowledge than most; its members met at a music college in West London (both Weizsäcker and bassist Panos Ghikas were doing post-graduate programs in film composition, keyboardist Claire Hope was pursuing a degree in piano performance), and they all play multiple instruments; those slim, expressive string parts on tracks like "Take It In the Face" are played and arranged by Ghikas and Weizsäcker. And where most bands will crow about being the bestest BFFs, the Chap can do them one better: they have a baby. Well, Ghikas and Hope have one, "but I'm thinking of how we can integrate him into the music," Weizsäcker says slyly. "Little Hector seems quite advanced in his musical tastes. He likes to go to sleep to lots of minimal techno, so I don't know. Maybe he can influence us back."
In short, there's no shortage of angles from which the band can approach songwriting, and that suits them just fine. Too many bands, trying to carry the torches of punk or new wave or rebelling without cause, are hamstrung by self-imposed restrictions. But Weizsäcker and company keep those pressures at arm's length. The point of the Chap, Weizsäcker says, is "to play with the form of pop."

"On the one hand we're very much in love with it, "Weizsäcker continues, "and on the other hand we're aware of its limitations."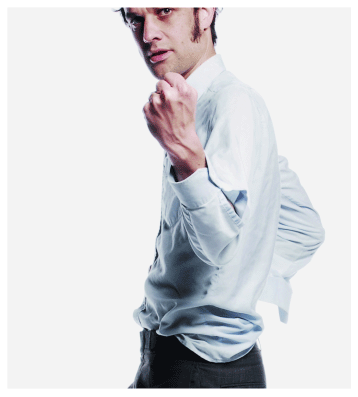 The love part is evident on Mega Breakfast, a deeply silly album distinguished by its small touches, its sproinging wood noises ("Carlos Walter Wendy Stanley"), its epic string flourishes ("Fun and Interesting"), its bizarre instrument cameos (pan flute, hammer dulcimer), and savvy, well-constructed vocal harmonies. These shine because they flesh out what are, at heart, meat-and-potatoes rock songs. Songs like "Ethnic Instrument" and "Proper Rock" revel in the awesome wallop of power chords, and they're fresh and enjoyable because you don't hear them coming; "Proper Rock" begins with a burbling, baroqe keyboard part, and "Ethnic Instrument" is, at heart, painstakingly sequenced sample-pop.

And despite Weizsäcker's assertion that "they tend to happen quite quickly," the Chap's lyrics are another selling point, whimsical and dry, slogans atop slogans and songs about songs. The group shares singing duties, and they poke fun with the detachment of David Byrne and the incisive wackiness of the Mothers of Invention.

The band also takes a dim view of the desperate, sapped lifers in the music business, a motley bunch they're self-aware enough to lump themselves in with. "19 years in the business / 19 years dog without a bone," they sing together - both "Surgery" and "Wuss Wuss" feature these lines - and charms aside, it's hard not to feel a weariness lurking behind some of the band's best songs. It is only slightly surprising when Weizsäcker, while his band's discography, admits, "I think Mega Breakfast is the coldest, most cynical record out of all of them."

But the Chap isn't fixated on the tread on their tires. The band is already working on Mega Breakfast's follow-up, with plans to appear at South By Southwest in 2009. They've also just released Builders Brew, an oddball mini-album of remixes, rarities, and a cover Tina Turner's "What's Love Got to Do With It." This track closes Builder's Brew out, and it handily summarizes the state of pop right now. The track begins in near catatonia, but on vocals, neither Weizsäcker nor Hope can keep a straight face, and so the track knots itself into a seizure of electrified violin scrapes before this last verse:

I've been taking on a new direction
and I have to say
I've been thinking 'bout my own protection
It scares me to feel this way

In a way, the band's cover can be viewed as pop music talking about itself, and the final verse is an admission that too few bands are willing to make. In a culture that seems overwhelmed by itself, pop music has become too desperate to please, all escape and no reflection, an anachronistic and largely conservative form. But the Chap made peace with this state of affairs long ago. "Pop music is really very redundant, the most conservative form of music, if you think about it," Weizsäcker explains. "It's ALWAYS a few minutes long, it's always based on a REALLY basic rhythm, it's always based on REALLY basic harmonies and melodies, and the second you deviate from that, everyone calls you a total weirdo. And this is the nature of pop culture."
Just imagine what might happen if everyone else gets over those expectations.
The Chap is currently on tour in the UK. You can buy most of their releases from the Ghostly Store, and we're going to do our damnedest to bring them to New York in 2009.